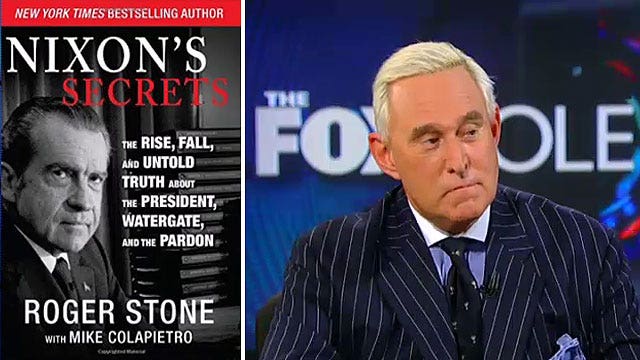 Political consultant Roger Stone was every bit his controversial self Saturday night at the Politicon event in Pasadena, California.
During a session titled Weed Nation, Stone threw verbal bombs at the Trump administration, accusing it of wanting to re-fire up the war on drugs.
But during a separate session on Watergate — which was really about the Trump-Russia probe Stone seemed more ready to defend the president and his team.
For example, Stone said there was one key difference between the scandal that brought down Richard Nixon and the current media frenzy surrounding the White House.
Watergate started with a crime, Stone said, referring to the burglary that launched the case. But he said he saw no evidence of crime in contacts between Trumps team and Russians.
In fact, Stone said he saw more parallels between the Nixon era and the Obama years than between Nixon and Trump, asserting the Obama administration had conducted surveillance on tens of thousands of Americans.
He also said the charge that Russians had hacked computers of the Democratic National Committee was entirely unproven.
What was Stones answer for the media lynch mobs and others going after Trump and Co.?
You dont have any evidence to impeach Trump, Stone said, and your motivation is entirely political.
"You don't have any evidence to impeach Trump, and your motivation is entirely political."

– Roger Stone, political consultant
Stone said Russia lawyer Natalia Veselnitskaya had entered the U.S. without a visa and had posted photos online from an anti-Trump rally and from inside the office of Republican Sen. John McCain, a frequent Trump critic.
I find that troubling, Stone said. I smell a set-up.
Other Stone barbs:
On Sean Spicer: He shouldnt let the door hit him in the ass on the way out.
On George W. Bush: Bush snorted so much cocaine, he had a personal thank-you note from Pablo Escobar.
On Trumps military transgender ban: I disagree with that entirely.
Regarding marijuana, Stone said Trump needed to stick to his campaign position of leaving pot policy to the states, adding he didnt think the president was truly aligned with the drug warriors on his team anyway.
Stone warned that Trump could lose voter support by taking a hard line on marijuana. Medical marijuana, for example, was a consensus issue, he said, with lots of voter support.
The war on drugs, meanwhile, was largely an expensive racist failure, Stone said. He charged that the Clinton administration had incarcerated an entire generation of young black men for mostly small amounts of pot.
Politicon, billed as an independent forum, unaffiliated with any political organizations, parties or political action committees, was scheduled to conclude Sunday at the Pasadena Convention Center.
Newly hired White House communications director Anthony Scaramucci had been scheduled to appear at the event, but canceled following his recent interview with the New Yorker magazine, according to the Hollywood Reporter.
Fox News Daniel Gallo contributed to this story.
Read more: http://www.foxnews.com/politics/2017/07/30/at-politicon-roger-stone-has-plenty-to-say-for-and-against-trump-team.html