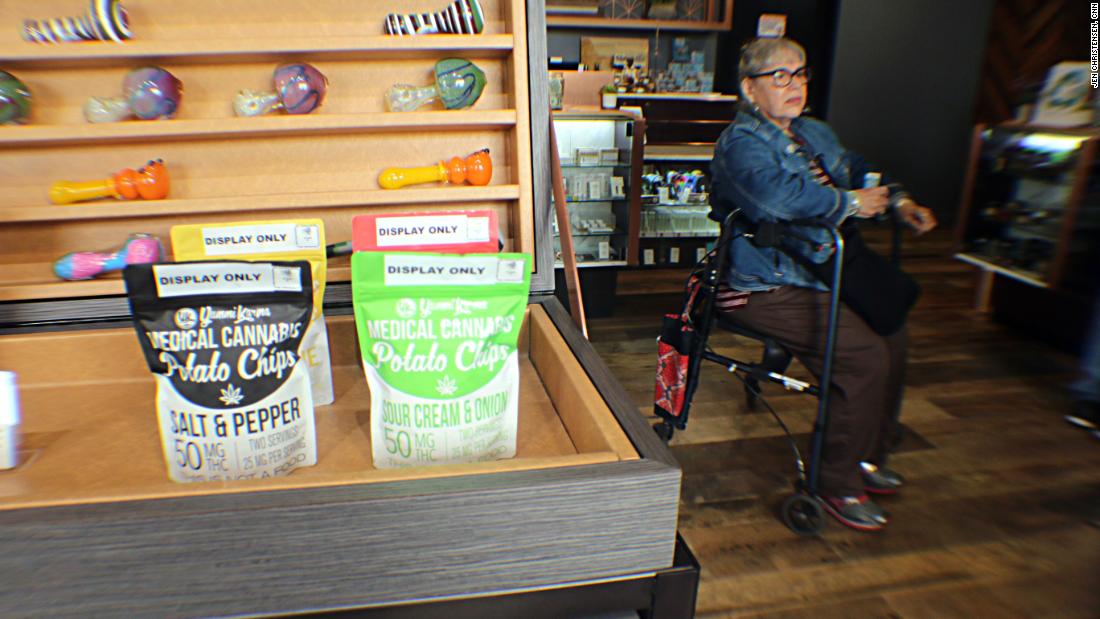 (CNN)An 86-year-old man in a bright yellow sweatshirt and matching baseball cap grips his walker tightly. He stands near the door of a large bus, the charter name American stretching over his shoulder. He greets neighbors and trades jokes with an official-looking woman, clipboard at the ready, checking people in as they board.
Watch Chief Medical Correspondent Dr. Sanjay Gupta's CNN Special Report "Weed 4: Pot vs. Pills" on Sunday, April 29, at 8 p.m. ET.
They spot an older woman in black running toward them, her purse bouncing behind her. "Chin," the woman gives her last name when she stops, a little out of breath. "I worried you'd leave without me, and I definitely didn't want to miss this."
She joins about 50 seniors from Laguna Woods Village, an active-lifestyle community in Orange County, California, for people 55 and older, who are alreadyaboard the bus and ready for a new adventure. Many say they saw an ad for the free senior shuttle in their local paper.
They aren't catching a ride to bingo, nor are they headed to walk at the mall. Instead, this special charter comes to the community once a month to spare these seniors a half-hour drive to Santa Ana. Their destination:
Bud and Bloom
, a store that organizes the shuttle and bills itself as a senior-friendly medical marijuana dispensary. Some nicknamed the charter "the cannabus."
This is the first trip for the energetic man in yellow, John Lustig, and his spouse, Anne, who knits next to him on the bus. He fell and hurt his back and uses the walker for balance. "I've been having unpleasant back pain, and the medications weren't doing it, so I thought, at 86, I would give cannabis a try," Lustig says.
The retired librarian's doctor gave him a shot for the pain, but it hasn't worked well, and his wife said the opioid he's on doesn't always work, either.
A lot of other riders expressed reluctance about opioids, worried that they'll feel unmotivated. The group takes the "active" description of their senior community seriously: There are horse trails, pools and tennis.
Lustig hopes cannabis will help. Asked what neighbors will think, he jokes, "I don't give a damn.
"If I can help them lift something because my back is OK again, I think they would even help pay for the trip."
On board, the festive atmosphere is punctuated by the buzz of neighbors getting to know each other. One woman looks over a long handwritten shopping list. She's gathered neighbors' requests, and the list is four pages long. Others hand iPhones across the aisle, showing off photos of grandkids and great-grandkids. Many laugh and share stories, learning that they have at least one thing in common: If they've tried the drug before, it was a grandson who introduced them to it.
"My grandson gave me a block of this chocolate," says a woman with an old Hollywood style coif and a sensible knit vest, a glasses chain around her neck. She asks that her name not be used, saying her children would be mortified. "I couldn't see straight for hours. It made me feel so weird, but I hear that there is some you can get that won't get you high. I'm interested in that. I've got arthritis."
Kandice Hawes, who was checking people in with the clipboard, is a longtime legalization advocate hired by Bud and Bloom. She said that since she's been coordinating the senior shuttle, she's seen a shift in attitudes, especially after marijuana became legal in all forms in California in January. Seniors, she finds, are particularly curious. "We usually have a happy bunch who want to learn something new and to try out new things," she said.
Scientific studies are still limited due to the Schedule I classificationof the drug, which means it's illegal on the federal level and is considered to be of no medical value. However, the evidence is starting to show otherwise. The seniors on board the "cannabus" — many new to the drug, many like the Lustigs — want to find out whether it will work for them.
Weed has already fixed a huge health issue for Christy Diller, who is going to be 80 in a few months. She's been using it for a couple of years.
"I've got rheumatoid arthritis really bad. That's why I'm taking the marijuana," Diller said. She eats a marijuana brownie every night, about two hours before she goes to bed. Before marijuana, she'd getabout only two hours of sleep a night. "I was like a walking zombie, and that was almost every day." Now, with her brownies, she gets a full night's rest.
Today, she's on the bus to buy mint lozenges. She bought some a few months ago, on another shuttle ride, and found that they helped when the brownies weren't enough. Some friends have given her a hard time about using marijuana, but she doesn't care what they think.
"I think it is great. I think older people that have a lot of pain should use the marijuana, you know. When nothing else helps, then use it," Diller said. "For me, nothing else helped me anymore, so I used the marijuana. It got a little better. It didn't get much better, but it got better. So I can at least getsome steps already, and I can walk. I could not even walk before."
The bus passes through an industrial area and pulls up alongside a set of nondescript concrete buildings. The only thing distinguishing the Bud and Bloom dispensary is a bright green cross in the window and a large man in black, with the air of a bouncer, standing at the door for security.
Inside, the seniors must show an ID and fill out city-required paperwork. At a desk that resembles the check-in area at a doctor's office, they have to state whether they are there for medical or recreational purposes. "If you have a doctor's recommendation, you get a 10% discount here," the clerk tells Diller. "And if you are over 55, you also get a seniors discount."
Part of the group goes to the back of the building, where there is an information fair. Vendors sell weed wares and services. The Lustigs seem intrigued by a mixture that goes in your morning coffee, and they get a massage from a woman who rubs cannabis oil onto their backs.
Christina Espiritu, founder of the 420 Foodie Club, speaks with a group of seniors as they eat sandwiches in metal folding chairs. "How many of you have ever cooked with marijuana?" Espiritu asks. A few hands shoot up.
"Do you remember what you made?" she asks.
"Brownies, of course," shouts a woman, laughing, at the front.
"Did you like them?" Espiritu asks.
"No, they tasted like dirt," the woman responds.
"Well, we can teach you about how you can make marijuana into butter. I promise that tastes a lot better," the instructor tells the class.
Other seniors ask about creams on display. "These do different things for different times of day," says a man with a million-dollar smile who looks like he should work at a high-end cosmetics counter. "The bliss from this is very uplifting, meant for a mood enhancement. It is quite energetic at times, but it is meant to elevate your mood and make you feel good. The other is great for sleep. Even Time magazine wrote about it. There's satisfaction guaranteed."
In the store, a group looks around what could pass for a posh hotel spa rather than a hippie-era head shop. On displays of modern furniture and glass cabinets are cannabis products in every imaginable variety: weed popcorn, potato chips, mints, gummies, lip gloss and the more traditional glass bongs and rolled joints. "These are a little fancier than what we used in the '60s," one man tells his wife as they look over bongs.
Clerks and an on-site pharmacist are ready to answer any questions.
"I do have the oil," a clerk tells the Lustigs. "It would work really well for your back pain. But that's only if you have someone who can assist you."
John Lustig pats the hand of his wife of 64 years with a mischievous grin, and she nods that she will help. "How do you know how much to apply?" he asks the clerk.
"It's very personal. You will have to test the waters," the clerk replies. "The thing about our topicals is, it's not intoxicating."
"Do you have your exit bag?" a nearby clerk asks as Diller checks out. An exit bag is a secure envelope required by state law for all dispensary purchases.
"Oh, you have to bring that every time?" she asks.
"You have to bring them back every time. It is just the law. It's a dollar."
"Oh, dear. A dollar is a dollar for we seniors," Diller says.
One of the drawbacks of marijuana as medicine: It can be expensive. Diller's tiny box of mints costs $24.49. The clerk blames taxes, and since marijuana is illegal at the federal level, it's not something Medicaid or insurance covers, even with a doctor;s recommendation.
Though disappointed about the expense, Diller still thinks the benefits are worth it. "For me, it's a miracle," she says. "Although the cream can smell pretty bad. I went to my daughter one time. She said, 'You smell horrible. What do you have on?' I said 'marijuana.' My daughter laughed and said 'whatever works.' "
A few weeks after their shopping trip, Anne Lustig said they aren't completely sold on marijuana. Before she uses it, she wants to do more research. "Honestly, I haven't given it a chance yet," she said, though she rubbed some of the liquid on her husband's back. "I do think that may have helped, at least a little bit.
"We will have to see. As my husband always says, 'getting old is not for sissies.' "
Read more: http://edition.cnn.com/