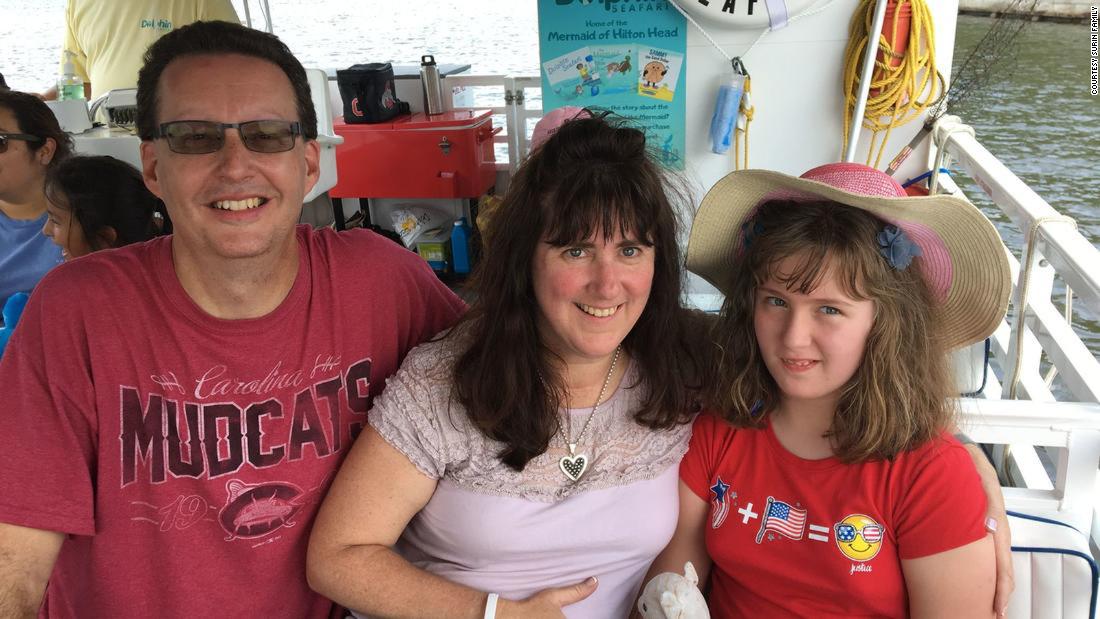 (CNN)A little girl was back in a school she loves in Schaumburg, Illinois, last week, but only after a federal judge said it was OK for her to bring her prescription medication with her.
Eleven-year-old Ashley Surin was not allowed to attend class because she wears a medical marijuana patch and uses cannabis oil and lotion to manage seizures. The medical marijuana and a special diet have worked wonders for her health, according to her parents.
"The two together are a golden cure for her," her mother, Maureen Surin, said through tears after an emergency hearing in Chicago earlier this month. "She can think better, walk better, talk better. Her brain used to be like in a cloud. Now she can think better and is more alert and she can interact."
Ashley was a toddler in December 2008, when she was diagnosed with
childhood acute lymphoblastic leukemia
. Her doctors gave the little girl several rounds of chemotherapy and spinal injections to fight the cancer. The treatment sent her cancer into remission, but one of the spinal injections triggered seizures. She's been plagued by debilitating seizures since the age of 2, and remained on a number of medications with several serious side effects. The prescriptions helped, but they weren't a cure.
Her father said her health deteriorated and Ashley was not herself. The medicine left her with extreme mood swings, memory loss and limited energy — and she still had seizures.
One full body seizure at a grocery store last year sent her to the hospital. She hit her head on the cement floor with such force doctors had to drain the blood from her brain. "It was the most helpless feeling in the world to see her go down and not be able to help," Jim Surin said. Recovery was slow.
To the Surins, the patch and the oil seemed simple and straight forward. Ashley gets what looks like a small bandage on her foot twice a day. They rub lotion on her wrist from a tube that looks like lip balm, her dad said. If she does have a seizure, she gets a small drop of oil on her tongue.
Unlike with a diabetic child who needs help from an adult at school to administer insulin, a nurse or teacher could lose his or her license if they helped Ashley with her prescription. And if Ashley wore her patch to school, she or her parents could technically face criminal prosecution. Marijuana of any kind, including medical, is not allowed on school grounds, school buses or at school-related events.
While sympathetic, and a criminal prosecution would be unlikely, the district said it felt it had to follow the law the way it was written. That meant Ashley's parents would have had to keep her out of class or take the school to court. In the mean time, she had to stay out of school, missing a couple of weeks of class.
The Illinois attorney general agreed not to prosecute and said there should be no negative legal ramifications for staff who help Ashley with the medicine. The federal judge issued an emergency order to allow Ashley to go back to school.
"They've changed Ashley's life today and they may've also changed the lives for other children for the better," Kriha said. It's believed this is the first case of its kind and could potentially impact other schools and the way in which they deal with children who have prescriptions for medical marijuana.
And on Tuesday last week, Ashley did return to school. Her father said it felt a little "surreal."
"There were about a dozen people there to welcome her, everyone from her aids and teachers to the principal and assistant superintendent. They were amazing and super supportive," Surin said.
The ruling and the warm reception have left the Surin family even more determined to create change.
"I hope that we can help the state change the law to not only let our daughter get the medicine she needs, but that other students will be helped as well," Jim Surin said.
Read more: http://edition.cnn.com/