Megan Doudney, homeless with a six-week-old child, has seen support from some corners while others have confronted her in person and on social media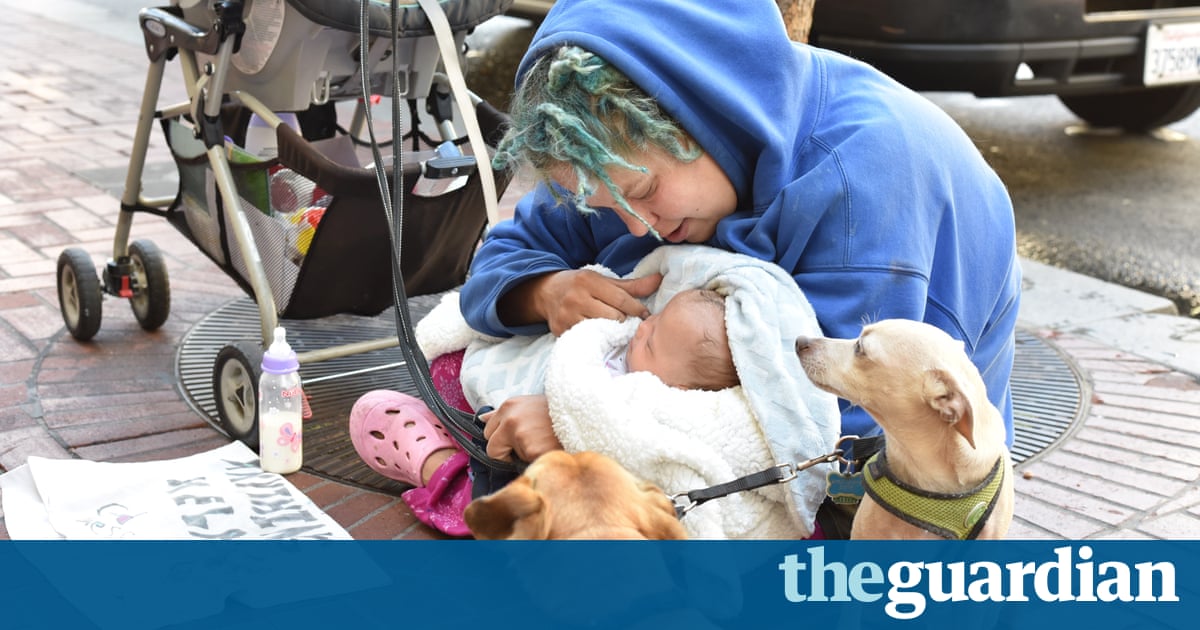 Anything helps, reads the sign that Megan Doudney lays out in front of her baby buggy as she nestles her six-week-old infant in her arms while panhandling on San Franciscos Market Street.
But the 34-year-old homeless mother has received a lot more than the financial help she was hoping for.
While Doudney has received an outpouring of support from some, others have unleashed a maelstrom of criticism on social media against her and panhandling with children that have turned into face-to-face confrontations on the street and 911 calls reporting her.
Its just harassment, said the mother, who is currently staying with her baby and two dogs at a city-funded, temporary family shelter run by Hamilton Families. Doudney, who has a severe back condition and receives social security payments, said she used the money she collected panhandling to cover extra expenses and to save money for a future deposit on an apartment.
A lot of people assume I cant take care of the baby, she said, as she held her daughter, Nedahilla, in a blue fleecy blanket and fed her out of a pink butterfly bottle. These people want to take her from me. In what way, shape or form am I abusing my child?
The case comes at a time when panhandling is under renewed debate around the country. This month, New Yorks mayor, Bill de Blasio, claimed that panhandling was something people did because they think its fun and said he would ban it if he could. Sacramento is considering making it a crime to panhandle at intersections, ATMs and gas stations. Meanwhile, an economist at Columbia University has written that it would make more sense to accredit panhandlers than ban them and a not-for-profit organization in Seattle has launched a new app that does just that.
On Monday, Deidre Laiken, a 70-year-old former teacher from North Beach, conducted a one-woman protest, holding a picket sign next to Doudney which read: Women against child abuse.
Most people think about this poor woman, but they dont think about the child, said Laiken, who learned about the case from social media. One of the definitions of child abuse is using a child for exploitation or financial gain. This woman is making a lot of money.
The real issues were desperation and poverty, said Nick Kimura of the San Francisco Coalition on Homelessness. Its a much bigger issue than her sitting on the sidewalk, said Kimura, a longtime volunteer for the organization. The reason shes doing this is because shes poor. Its not something people are choosing to do. The question is: how is this intervention helping?

Originally from Nebraska, Doudney moved to San Francisco about five years ago, after losing the home where she was living in Minnesota. I had some choices. I could be homeless in Minnesota, where I would freeze to death, or I could be homeless in California.
Doudney, who walks with a severely hunched back, has suffered severe pain since she was a child. She said she had been taking opioid medications for years, but was able to quit once she arrived in California, where medical marijuana is legal.
Doudney first gained attention on social media, when a woman who frequently passed her on the street posted photographs of the baby on the local social media app Nextdoor.

In early July, several Nextdoor users went to see the baby and mother, who was panhandling on Market Street. One of them noticed the baby looked sick and called 911. A few minutes later, two or three police cars, an ambulance and a fire truck showed up, according to Doudney. The paramedics assessed the baby on the spot and determined it had low blood sugar, she said. The medics transported the baby and the mother to the hospital, where the baby was treated and released.
They called 911 because they said the baby was discolored, said Doudney. They said she looked like she was unconscious. Of course she looks like shes unconscious shes a sleeping baby! It was just crazy.
One user of social media posted photos showing the baby stroller sitting unattended on Market Street, except for a homeless person in a wheelchair nearby. The woman posted remarks saying she had documented the baby being left alone in its stroller for up to 40 minutes.
I called CPS and said this cant be legal, said Erica Sandberg, another Nextdoor user, who also posted about the baby on Facebook and was there the day the ambulance took the baby and mom to the hospital.
Doudney said: The allegations that I leave her alone are absolutely untrue. I can take her everywhere except into the cannabis club.
Doudney said she has had her friend in a wheelchair stay with the baby outside the club while she goes inside.
Homeless service providers argue that in San Francisco, where there is virtually no affordable housing available, the problem that needs to be addressed is getting homeless families into safe, stable situations.

Rachel Kenemore of Hamilton Families said the number of homeless families in the city has jumped from around 600 in 2007 to more than 1100 today. There are so many families needing housing that there is a wait of six to nine months to get into shelter programs.
She said it doesnt help to demonize families in need: Lets be part of the solution on this. What can we do to be supportive to members of our community who need help?
Many passersby greet Doudney enthusiastically as she panhandles, some handing her dollar bills. One man comes by to offer some money and then returns with some doughnuts; another stops to offer a sports jersey he cannot use. But others are more critical.
Why is your baby out here? one woman calls out as she quickly walks by.
Doudney shakes her head and says she has no intention of being scared away by these critics. I do what I need to for my child.
Do you have an experience of homelessness to share with the Guardian? Get in touch
Read more: https://www.theguardian.com/us-news/2017/jul/31/homeless-baby-san-francisco-panhandling