Industry leaders descended on the capital this week amid hopes the country at large is slowly embracing legalization
More than 200 cannabis industry leaders descended upon Washington this week in the hopes of persuading the US Congress to embrace the growing movement for marijuana legalization.
The marijuana business owners and advocates bustled between the hallways of the House and Senate, meeting with hundreds of congressional offices and rallying on the Capitol lawn over a three-day lobbying tour organized by the National Cannabis Industry Association.
The event, which brought members representing 23 states and the District of Columbia, was not the first of its kind. But the advocates hailed a new front in the battle for federal marijuana reform against the backdrop of a rapid evolution on how the issue is perceived in the nations capital.
Theres an air of legitimacy around our group that makes me hopeful that the stigma is going to fall away, said Blake Mensing, a cannabis attorney from Massachusetts who helps clients obtain local permits and state licenses for adult use cannabis businesses.
With public opinion polls showing record support among Americans for marijuana legalization, its little surprise that the high has spread to Congress.
Lawmakers from both sides of the aisle have taken a flurry of actions in recent months that signal the shifting tides.
Mitch McConnell, the Republican Senate majority leader, fast-tracked a bill in April that would legalize industrial hemp. The historical ban on hemp, which is derived from the cannabis plant, has long imposed barriers on the agriculture industry.
McConnell found an ally in his daily sparring partner Chuck Schumer, the Senate minority leader, who announced his support for the proposal this month.
The marijuana industrys efforts include pushing for legislation that would grant legal marijuana businesses access to financial services, among other measures to prevent the federal government from prosecuting businesses that are in compliance with state laws.
The states have already proven that replacing the criminal marijuana markets with tightly regulated and transparent small businesses is working, said Aaron Smith, executive director of the National Cannabis Industry Association (NCIA). Now the responsibility falls on Congress to reform federal laws so that the legal cannabis industry can be treated fairly, like any other legitimate business sector.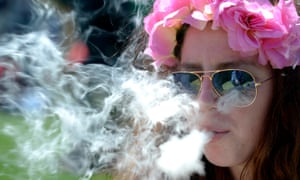 Read more: http://www.theguardian.com/us