From a stage in the heart of America's most important marijuana-growing region, a DJ named Eden pleaded for unity. "Yo, give me some Hum-love," she said. "We've been through tougher times than this, y'all."
She was presiding over the Golden Tarp Awards, a contest to celebrate and promote the storied cannabis of Humboldt County, California. Humboldt is one of three counties that make up the Emerald Triangle, the epicenter of the country's cannabis production. It begins north of wine country, in northern Mendocino County, and continues up the "Lost Coast" to encompass Humboldt County and, inland, Trinity County. It's a landscape of misty, old-growth redwood forests and jagged cliffs that plunge into choppy, gray seas, like something out of Tolkien.
It was mid-November, a few weeks before the dawn of legal recreational weed in California, and for small independent growers, legalization was beginning to look like a disaster. California's thousands of outlaw pot farmers have long been ambivalent about full legalization, given the potential disruptions to their lucrative, tax-free businesses. Now it looked as if their worst fears had been realized.
California had just released emergency rules for the legal market, which opened Monday, Jan. 1. In earlier iterations, the state had agreed to hold off on licensing large, industrial-scale grows until 2023, giving small farmers time to adapt. The new rules reversed the position to immediately allow huge industrial farms to depress prices even further.
So it was under a cloud of another kind that much of Humboldt's cannabis community had gathered for the Golden Tarps. The award ceremony was being held at a community center in Redway, a forest town, population 1,225. After the DJ came Kevin Jodrey, the event's impresario. "It's people like us who built this industry," Jodrey said. "We're getting financially beaten to death."
Jodrey began the Golden Tarps in 2014, naming them for the covers used to deprive pot plants of sunlight and force them to flower. A self-described "career drug dealer," Jodrey arrived in Humboldt 27 years ago. He told me he grew up in Rhode Island in an extended family connected to organized crime, and he came to Humboldt after a stint as a diver in the Coast Guard. Now 51, he's scruffy and compact with shoulder-length silver hair. He talks nonstop in an East-Coast-wiseguy accent unmellowed by decades in the woods and God knows how much dope.
Jodrey has done well for himself. His farm is on top of a mountain surrounded by forest, and he likes walking with his family beneath the redwoods. Among Humboldt growers he seems better prepared than most for the transition to a legal market. One of his dispensaries has received its county license, and his mountaintop farm, Wonderland Nurseries, has passed all its inspections. He said he hasn't been locked up since high school.
The Golden Tarps are one of many efforts to promote small-farm, organic-style pot in a market in which larger farms will enjoy significant advantages. In Mendocino, a project is underway to create cannabis appellations, akin to the French wine classification system. But bigness is coming for the Emerald Triangle. Deep-pocketed individuals — many of them Bulgarians — are buying up land to capitalize on Humboldt's hallowed terroir.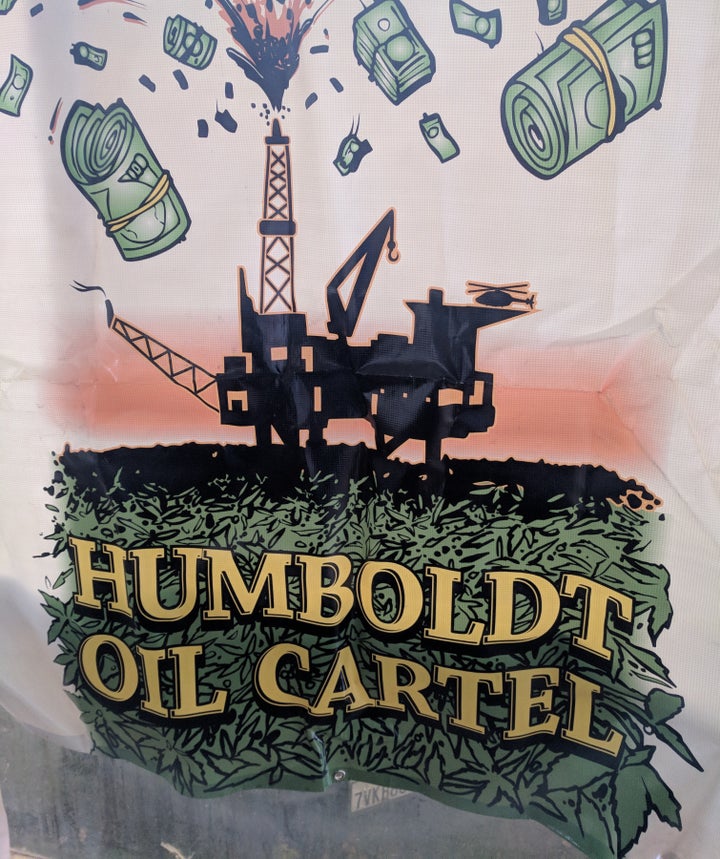 "Maybe people don't understand the difference between good pot and bad pot yet, and hopefully we'll show 'em," Jodrey said to the crowd. "I saw some gorgeous cannabis come across the desk, and most of my judges are laid out."
At the first Golden Tarps, four years ago, the winner declined to identify himself. This year the event was accompanied by a livestream, and in a further effort at publicity, they'd invited an industry reporter, me, to serve as a "celebrity judge." "We used to be silent," Jodrey said. "Now we're loud."
Judges had a six-hour window to blindly evaluate 16 strains grouped into categories by smell: floral, fuel, earth and fruity. Lab results for THC content (potency) and other variables determined the finalists. For judges, the hard part is discerning between the sensations evoked by the third sample and the sixth, or the sixth and the 10th.
Pot judging is inherently suspect, but the results matter. A Golden Tarps victory is a credential, and thus one of few ways for growers to distinguish their weed from their neighbors'.
Some cannabis users can spend hours discussing with Talmudic fervor the microvariations in cannabis scent and "expression," but I can't. So it was with some relief that a travel delay forced me to give up judging duties, allowing me to sample the finalists strictly for research purposes.
This year's winner was a sample of the strain Gorilla Glue #4. It went unremarked that a company that claims to have invented the strain had recently settled a trademark infringement lawsuit filed by the Gorilla Glue company, an adhesives maker based near Cincinnati. Jodrey hopes to see the Golden Tarp winner get some "juice" out of the win, but the settlement could complicate promotion efforts.
"Infringement." Lawsuits. Settlements. Artisanal pot. The weed business isn't what it used to be, and some of the old outlaws of Humboldt want to know what they're supposed to do now that the industry they pioneered seems to be done with them.
Hipneck Solidarity
Every grower believes he grows amazing weed. Wendy, a Humboldt County grower who asked to be identified only by her first name, isn't a braggart, but she has a stronger claim to greatness than most. Two of her strains beat out hundreds of competitors to finish in the top 20 at the 2016 Emerald Cup, a prestigious post-harvest festival and farmers' market in Sonoma County.
For growers accustomed to the illegal market, legalization has presented tough choices. They can try to join the legal market with its taxes, regulations and other burdens, or try and brazen it in the shadows. Wendy said the choice was made for her when her Emerald Cup wins lit up Instagram. "They just said my name from the stage," she recalled thinking. "I guess I'm out of hiding."
The airy home Wendy shares with her husband, two daughters and their dogs is in a clearing in a live oak forest. To find it, drive north across the Golden Gate Bridge and continue for four hours or so. Exit the highway and follow a series of increasingly winding and narrow roads to the bottom of a dirt trail. Park out of view of the road, by the "No Trespassing" signs, and Wendy can fetch you for the bumpy ride up the hill.
In November, she sat on her couch, a bandana holding back her hair, as she trimmed her last outlaw harvest. In front of her she had a plastic tub the size of a coffee table. Every few minutes, she pulled out a few stalks and laid them on the big tray in her lap. Wearing rubber gloves, she cut the nuggets away from the stems and then snipped the extra foliage off the dense little topiaries. They wholesale for $800 a pound.
Wendy trimmed with spring-loaded shears, occasionally brushing a bud's rogue hairs into place with a practiced gesture reminiscent of an oyster shucker. She set aside the "smalls" for her line of skin creams, and scraped up the excess leafage, called "trim," to sell to edibles manufacturers.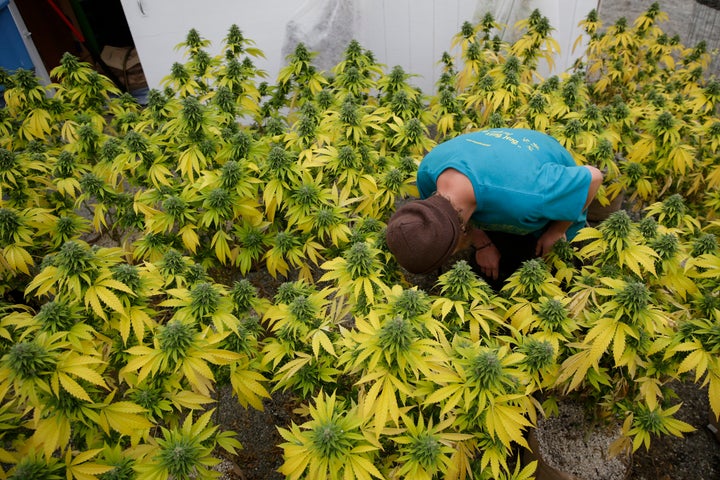 Not long ago, Humboldt's cannabis professionals were much more reticent to discuss their work, even among themselves. "You just assumed" people in Humboldt grew weed, Wendy said. When they shook hands, trimmers could recognize each other by their steroidal thumbs.
Behind her, one corner of the house appeared to be piled with familial clutter — more tubs of cannabis, in fact, and clear plastic bags of sheared bud. A wood-burning stove squatted nearby. One grower I met said she uses her discarded stems as kindling, and the dogs get stoned.
When one of Wendy's daughters asked how the family made money, she replied that lots of people "need medicine or like medicine, and [the region] grows the best."
In the late 1970s, Wendy's parents joined the back-to-the-land movement and relocated from Washington to Humboldt. She was an infant at the time. At first the family lived in a tiny cabin with kerosene lamps and a battery powered CB radio. Her father did well as a contractor and cannabis grower, and when she was 10 or 12 they moved into a gorgeous mountaintop house.
At the time, there were tensions between growers and loggers who felt the new arrivals were the embodiments of the environmental regulations they blamed for the timber industry's decline.
Everyone was outlaws. We all had someone's back. Wendy, a Humboldt County grower
But these communities discovered a mutual interest in making lots of money and not paying taxes on it. The hippies and rednecks cross-pollinated, and a new subculture, sometimes called hipneck, emerged. Hipnecks are gun-loving farmers who drive pick-ups and roll joints as thick as tennis ball cans. (Similar communities took root in Appalachia.) They developed their own slang and customs. Without access to banks, growers buried their cash in the woods. Now they say the money is all dug up.
Humboldt's farmers pride themselves on their ultra-competence and their "balls" – an attribute not limited to men ― but also on their strong community ties. No grower could survive alone. When Humboldt's community radio station, KMUD, alerted listeners to police convoys, Wendy's father chainsawed down trees to block the forest roads. "Everyone was outlaws. We all had someone's back," Wendy said.
This isolated criminal society had an undeniable allure, as well as its share of disturbing aspects. Every fall, travelers flock to Humboldt to trim the harvest, and stories have emerged that suggest, at some farms, a toxic environment rife with sexual harassment and assault. These were workplaces awash in cash, drugs and guns, and without cell reception, and the bosses were often semi-reclusive men. "I've always wanted to fuck out of my league," a man with a history in the industry told me. "And the only way I can do it is with drugs and money."
Occasionally, Humboldt became a low-grade war zone.
In the mid-1980s, California and the federal government created the Campaign Against Marijuana Planting (CAMP), a partnership to eradicate illegal growing. (It subsequently expanded to all 50 states.) Among other tactics, CAMP flew U-2 spy planes over the Emerald Triangle to locate farms.
In summer 1990, 200 Army and National Guard troops and law enforcement agents rappelled out of helicopters, confiscating plants and arresting locals at gunpoint. Called Operation Green Sweep, it was the first time active-duty troops were used domestically against marijuana farmers. Locals responded with protests.
The military raids were terrifying but not always effective. In its initial phase, Operation Green Sweep confiscated only about 1,200 plants, roughly a third of what Wendy grows annually on her small seasonal farm. Plus, some enforcement helped keep prices healthy.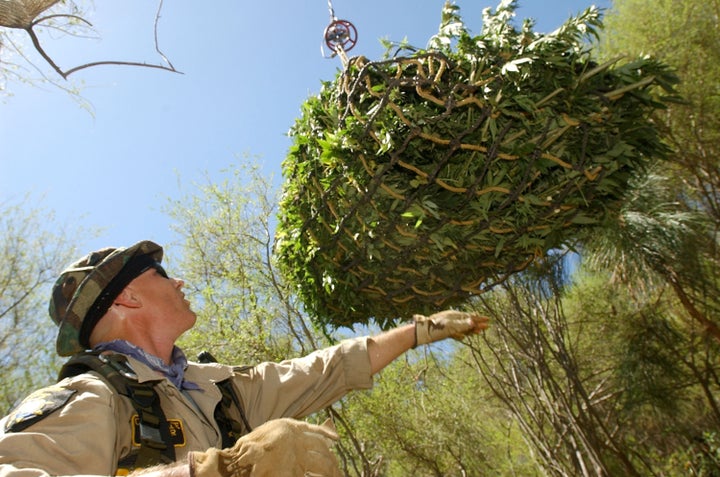 Wendy said her family took the precaution of not growing on their own property. They were never raided, but their neighbors were. "Their whole family, including the children, were zip-tied and made to sit on the floor of the living room while the cops ransacked their house and stole things," Wendy wrote in an email.
She planted her first guerrilla cannabis grow a few years later when she was in high school. It was as easy as throwing down some grow bags on a remote spot on a neighbor's property. After hiking in soil and manure, she returned once a week for watering. Together the plants yielded only 12 ounces, but at $5,000 a pound, tax-free, it was all she needed for gas and spending money.
Wendy studied at College of the Redwoods and then transferred to one of the University of California schools, where she took environmental science courses. Not long before graduation, she flew to Maui for a friend's wedding and stayed for four years, working at a hotel and a dive shop. She met her future husband there. Eventually they moved back to Humboldt.
Smoking cannabis can make Wendy paranoid. But she had developed chronic pain problems and found that juicing the leaves of a strain rich in cannabidiol, a non-psychoactive chemical found in cannabis, helped her pain and helped her to kick Vicodin. She ran a trim crew for a few years until she was able to acquire property in a "Humboldt land deal," a local term of art implying transfers of cash and/or weed that don't appear on a contract.
When she was in high school, Wendy could offload her carelessly grown pot for $5,000 a pound, and it was almost all profit. Now she gets $800 for her prize-winning flower. After taxes and costs — labor, workers' comp, etc. — her margin per pound has dropped below $300. She trimmed her own crop this year in part because she couldn't pay trimmers anything close to the $200 a pound she used to command.
With full legalization, small farms will have to compete against indoor grow facilities larger than football fields, many of them coming online in economically depressed desert towns east of Los Angeles. Mass-market cannabis tends to be machine-trimmed in contraptions resembling clothes dryers.
In California, there is certainly some demand for premium-craft cannabis, but it's not yet clear how large it will be. Corporate weed gets the job done, and in most states, people still have to settle for whatever they can find.
Wendy was blunt: "We don't believe in putting out mid-grade medicine." But under the new regulatory regime, it's unclear whether small farms will be able to survive.
'Black Market For Life'
California is a cannabis superpower, producing and consuming more than any other state. Its tens of thousands of pot farmers grow 13.5 million pounds annually, according to a recent report from the state's Food and Agriculture Department.
But of the total crop, only 20 percent went into California's legal medical market; the rest was sold illegally in California or shipped out of state, also illegally. (California's 2017 legal medical market was worth close to $3 billion, according to data firm BDS Analytics.)
Before Colorado's recreational market opened in 2014, the state took steps to regulate the industry and implemented an RFID system to track all legal product in the state "from seed to sale." Among other things, it's designed to ensure companies pay their taxes and don't offload product onto the illegal market. States that have since legalized, or are in the process, have mostly followed Colorado's example.
By contrast, in 1996, California became the first state to legalize medical but made only minimal effort to regulate the industry. Legalization was far less popular than it is now, and the state declined to regulate it, instead telling cities and counties to write their own laws.
It's given rise to a confusing regulatory patchwork that is often incomplete or contradictory. For example, until Monday, when the recreational market officially opened, a dispensary licensed in the Bay Area might source product from a locally permitted medical marijuana grower in the Emerald Triangle, but there was no aboveboard way to transport commercial quantities of cannabis from the farm to an edibles factory or a store. In Humboldt, the 101 south to San Francisco is known as "the gauntlet."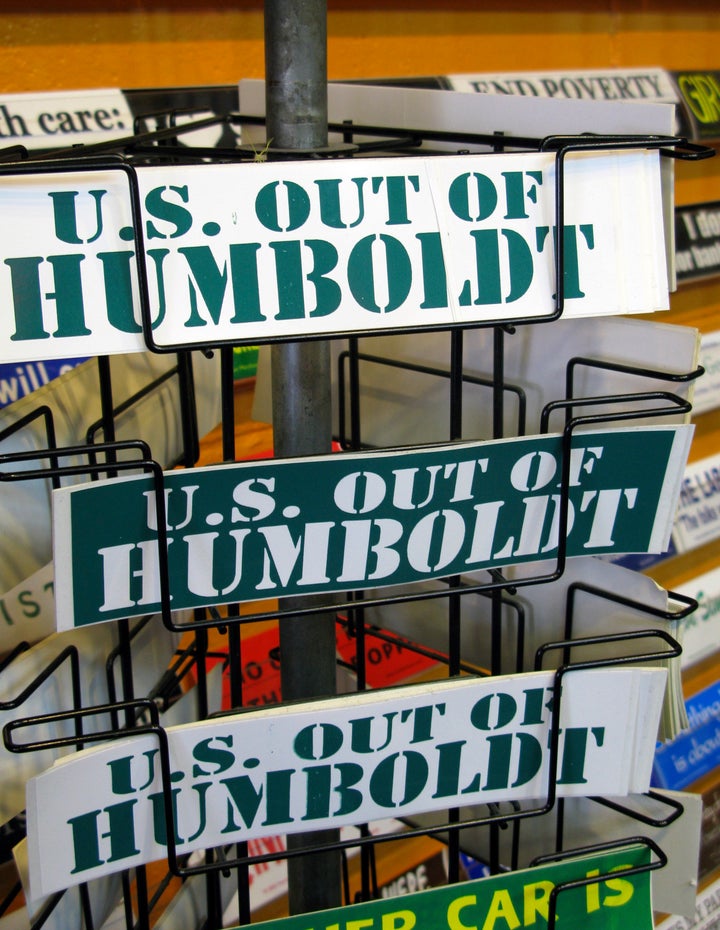 In other respects, the lack of rules favored illegal growers. Since California doesn't track product, it's easier to divert out of state. It's only now, with full legalization, that California is implementing the kinds of stricter state-level regulations aimed at eliminating the illegal market. While the dynamic is complex and untested, small-scale growers see market conditions tilting against them. Recently, U.S. Attorney General Jeff Sessions further complicated the equation by making it clear he'd like to see U.S. attorneys go after state-legal cannabis businesses.
Anecdotal evidence suggests some of Humboldt's small farmers are giving up. "If you were in it for the money, there's really no reason to do it anymore," Wendy said.
One grower, who asked not to be identified, said she'd never apply for a permit. "It's a lot of money, and they constantly throw shit at you." She prefers to take her chances selling illegally. "Black market for life," she said.
The Comedown
The morning after the Golden Tarps, Kevin Jodrey was eating breakfast and holding court at the Eel River Cafe along Garberville's handsome main drag. Not long ago, Jodrey said, "It was the richest town you've ever seen, since every business was a laundromat for cannabis money." But poverty seems to be on the rise, some locals told me, though data was hard to come by.
It's never been easy to be a Humboldt cannabis grower. These days, Jodrey said, his colleagues had to contend with satellite imagery, cease-and-desist letters, warrants. He compared it to "totalitarian East German society."
He kept returning to how much he loved living in Humboldt. "In a world of diminishing privacy, to have a private mountaintop isn't bad," he said. And he seems to enjoy living outside the law.
"My central nervous system is a little different than most people," he said.
As the cannabis market softens, he said, some Humboldt growers would inevitably turn to more profitable businesses like cooking meth or growing opium poppies. It was a simple proposition in Jodrey's eyes, as natural as the nitrogen cycle. "What exactly do you think criminals do when you fuck 'em?"
Alex Halperin has been covering the cannabis industry for more than three years. He writes the newsletter WeedWeek and lives in Los Angeles.
Read more: http://www.huffingtonpost.com/